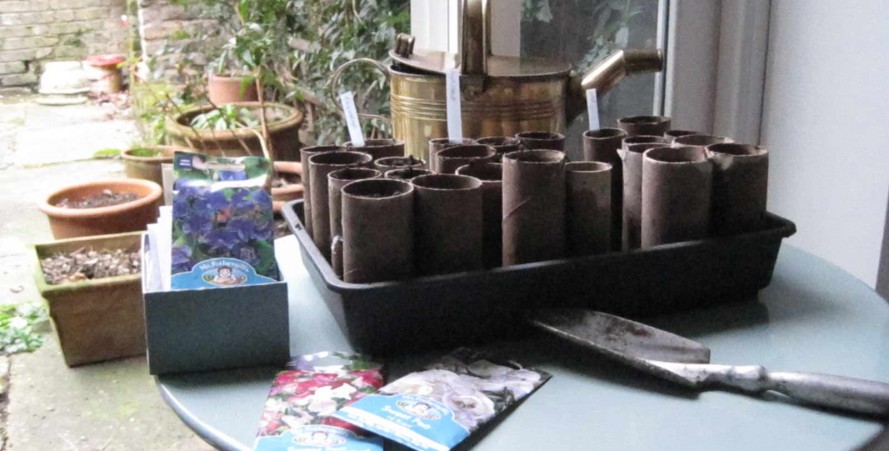 A series of colds as well as the inclement weather have seen us huddled fireside these past few months with little inclination to venture onto our wintry and wind battered allotment. Instead, a spot of indoor gardening – poring over seed catalogues and planning the year's growing selection.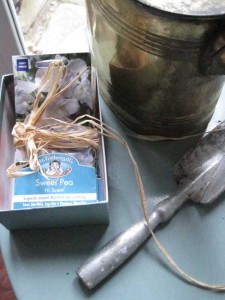 Plus this week, sowing a batch of sweet peas in individual seed pots for germination under cover.
Sweet peas are my favourite of all the annual flowers and an abundant sowing means armfuls of heavenly scented blooms to adorn the house all summer.  They can be sown directly outside from April, but germinating them indoors gives you a head start when it comes to flowering.
Sweet Peas have long trailing roots and so need to be germinated in deep pots. You can buy special "root trainer" plastic pots for this purpose, but I find that the insides of toilet rolls work just as well.  Because they are biodegradable you not only avoid adding to the throw away plastic mountain but you can plant the cardboard roll straight into the ground, thus avoiding disturbance to the nascent root system.
One word of caution if you use this method, the roots really are very tenacious and will colonise the whole seed tray if you are not careful.  To avoid this, place each roll or group of rolls in a larger pot with a firm bottom to it two to three weeks after germination.
For vegetable seeds, we have a handful of favourite seed suppliers and seed varieties that we order year after year.  But then each growing season it's fun to throw in a couple of newcomers.  Sometimes these are successful, like last year's Thelma Sanders winter squash; now a firm fixture on on the allotment.   Just as often they are not (Sarah Raven's beautifully packaged but disappointing purple peas to give one example) and you just have to put it down to experience.
With some vegetable seeds, there are a whole tranche of things that seem to grow reliably from any supplier. Things like perpetual spinach, turnips, radishes and broad beans to name a few.  But with other things we've found a considerable variation.  So with these varieties, we stick to a particular supplier for seeds that:
provide high germination rates;
grow reliably on our exposed and often dry allotment;
result in superior tasting produce.
Franchi Seeds of Italy
Climbing French Bean Trionfo Violetto – Best of all the purple beans we have tried,  even in dry conditions.
Tromba of Albenga– Amusing trombone shaped courgette that can be eaten as a summer squash or hardened off and kept for up to three months in the winter.
Snow Pea Gigante Svizero – beautiful mauve flowers and tasty pods that stay sweet and crunchy throughout the whole growing season.
And the newcomer we are trying is Cima di Rapa which is a type of turnip grown specifically for its peppery green leaves.
Simpson's Seeds
Salad Leaf Mixture Mesclun 2 and 3 – I've tried lots of varieties of cut and come again salad and this has proved the most successful with a long harvesting period and slow to go to seed in dry weather.  Mesclun 3 has an added sprinkling of oriental greens.
Crown Prince Winter Squash – Simpson's is one of a handful of suppliers of the beautiful and ever reliable Crown Prince but to my mind they are the best.
Jacob's Bright Lights Chard – This colourful chard variety looks pretty enough for the flower border and is good value, providing firm ribs which can be steamed and eaten with butter like asparagus as well as spinach like green leaves.

Plus we are trying for the first time Spring Onion North Holland Blood Red Redmate, a purple spring onion which can also be left in the ground and harvested as a full sized bulb.
The Real Seed Company
Thelma Sanders Sweet Potato Squash – one of the newcomers to our allotment last year and we would be placing an order for more…except that The Real Seed Company is fantastically generous with the number of seeds they provide in a packet – so we easily have enough for another year, maybe two.