The sight of hedgerows bedecked with berries is one of the glories of an autumn walk.  It is also a fantastic source of food for free. And since we arrived in the country five years ago, I still get childishly excited about this.  All that food just waiting to be picked and eaten.  Amazing!
This year, nature's abundance has been badly affected by the weather with all  fruits – apples and plums as well as wild berries  giving a poor harvest. Not a sloe in sight on the blackthorn bushes that line the field margins next to our house.  Elderberries too are thin on the ground.  Nevertheless, we managed to gather enough of these for a batch of elderberry and apple jelly.  This has to be one of my favorite preserves.  First because it can be made entirely from hedgerow fruits – so the only expense is the sugar.  Secondly elderberries give the jelly an incredible depth of flavour and colour – neither of which of deteriorate over months of storage as is the case with most fruit preserves.
Now  it's true that jelly making is a bit more fiddly than jam as it requires straining the cooked fruit through a jelly bag before combining with sugar.  But the smooth velvety texture you end up with is an utter delight.
The absence of sloes and damsons meant that our traditional trio of fruit gins is this year limited to blackberry.  Fruit spirits are a doddle to make and are best drunk fireside in the chilly months; either neat, in bijou glasses, or drizzled over pancakes for an impromptu and warming desert.  The base spirit can be either gin or vodka – any cheap supermarket brand will do.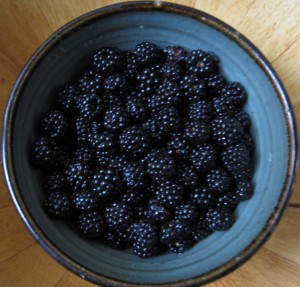 Our first blackberry forage in late September produced only a pound or so of smallish fruits and these all went into the gin.  I'd more or less given up on gathering any more until a bright morning at the end of October and a walk along some quiet lanes revealed a fine horde of plump fruit.  As we had come out without any bags or containers, we filled our pockets to overflowing.  Then decisions as to how  to make the best use of the prized harvest.
Blackberry ice-cream is definitely top of the list.  It is custard based, so less rich that other ices that use a lot of double cream. I plan to make a triple batch as it keeps in the freezer for a couple of months and works well with all those appley puds we eat in the winter with the fruit from our orchard.  It's also good on its own with a slug of blackberry or sloe gin.
This will leave just a handful of berries to add some colour to a classic eve's pudding.
Blackberry icecream
Place a pound or so of blackberries into a shallow baking tray and drizzle over 12 oz of sugar. Place in a warm oven and leave for half an hour until the sugar has dissolved and the berry juices have started to run.
Meanwhile, make a custard with the yolks of two eggs, a dessert spoon of flour or cornflour, the same of sugar and half a pint of milk.  Leave to cool once thickened.
For a truly velvety icecream, sieve the blackberry mix to remove all the pips.  This takes quite a while and can be hard on the hands but the end result is sublime.  Alternatively simply stir the unsieved blackberries into the cooled custard.
Whip half a pint of cream and add this to the blackberry custard.  Tip the whole lot into shallow plastic trays and pop into the freezer for a couple of hours until ice crystals start to form.  Once this happens, take it out of the freezer and give it a good beat with a fork until it is smooth.  Return to the freezer until fully frozen.