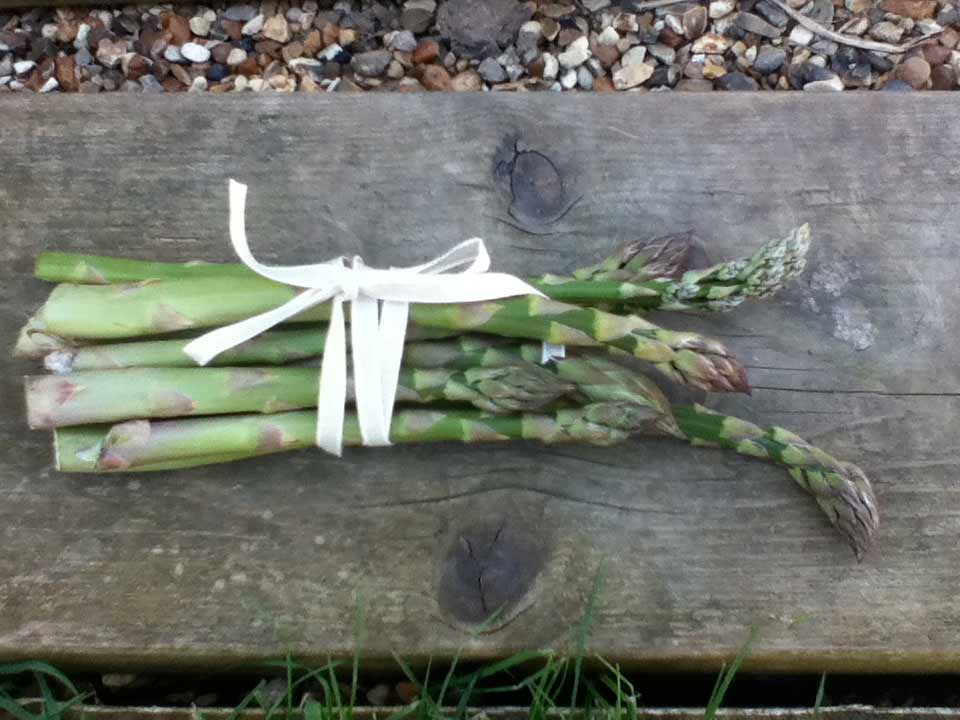 Today – a moment of pure joy!  We harvested our very first home grown asparagus from the allotment.
Asparagus needs patient tending as well as lots of of water and manure; but now in its third year we can finally start picking  – this first bunch provided a late al fresco lunch with some lightly poached eggs and rosemary bread. As any grow your own enthusiast will tell you, there is nothing to beat the taste of freshly picked produce. And the asparagus was a case in point – totally delicious.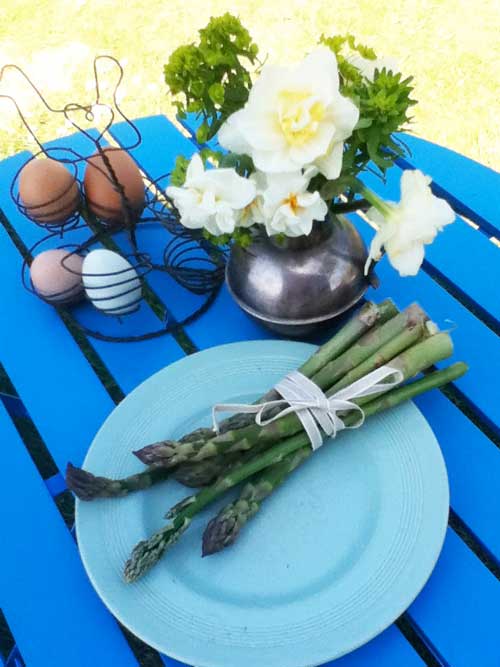 Asparagus aside, we have been late getting started on the allotment; but some spring sunshine (as well as the prospect of the asparagus) was enough to tempt us outside for some planting.  Three years on, the task of preparing the ground is much easier.  Regular bucketloads of horse muck last season really improved the soil so it is now crumbly and soft; and covering the beds with black plastic last autumn was a really smart move as it prevented the pesky weeds from taking hold.
On our first forage we returned with armfuls of salad – rocket, mizuna and mustard greens that were sown in the autumn and overwintered in a covered cloche.  Despite evidence of rabbit attack (the cheeky rascals had actually tunneled inside the cloche!) the tasty leaves were intact – their peppery flavour plainly not to the taste of the burrowing invaders.
But then came another unexpected visitor – an adventurous lamb, escaped from its enclosure opposite the allotment, came to see what we were up to.  Doh!  how cute we thought … until we found him tucking into the new growth on our artichoke plants and trampling the freshly sown seed beds.  For now, a hasty application of  twiggy borders has held him off.  Constant vigilance it seems is required.
Elsewhere in the garden, spring is only just coming into view – so the contrast of pink tulips against purple sage provides some uplifting colour in the herb garden.