It was a cold November afternoon to be out on the allotment but what a lucky chance it was. At first just the sound of a birdlike cry coming from some disused sheds belonging to a local farmer.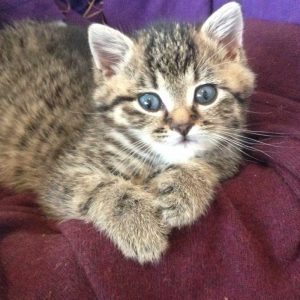 Then on further investigation a tiny fluffy bundle appeared, a kitten from one of the feral cats that live in the fields around our house and abandoned or somehow lost from its mother.
Cold, hungry and very dehydrated, the lost soul seemed quite happy to be scooped up and taken inside to warm up amidst a box of straw by the radiator.
One week on and she is the most loving little thing and we would not be without her.