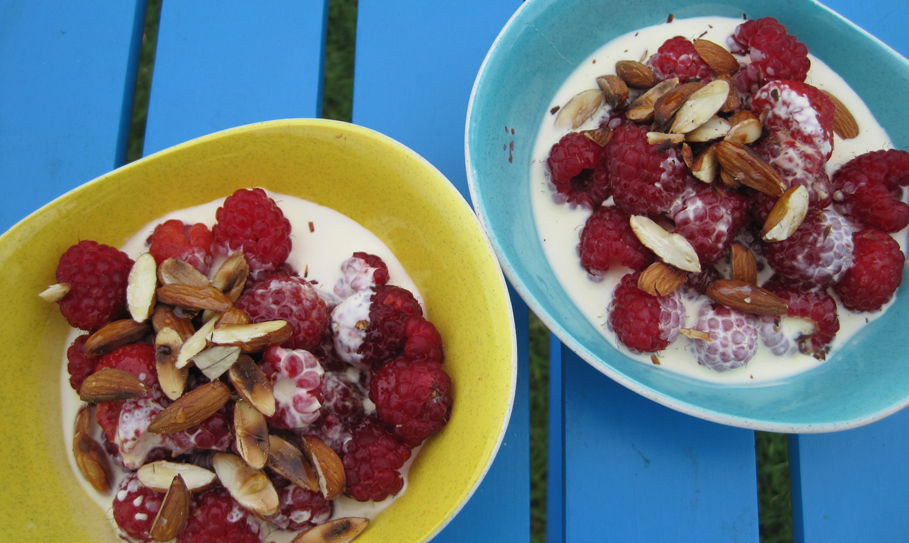 The heavy rain, though good for early sown crops like broad beans, spinach and salad leaves, has played havoc on other parts of the allotment including the soft fruit garden.
We planted this a year and a half ago;  a designated area  2m by 3m with rows of redcurrants, blackcurrants, gooseberries, raspberries and strawberries.   In the first year , we lost all save the gooseberries to the birds.  This year we were better prepared.  By late May we had constructed a rudimentary but solid fruit cage over the entire soft fruit garden.  With much self congratulation we sat back in contemplation of warm summer days enjoying our own soft fruit and making strawberry jam.
Alas, as is so often the case on the allotment, things didn't quite go according to plan.
We had some early success with the gooseberries.  Now in its second year, this culinary variety produced a fair crop of plump fruit that just about stretched to a handful of favourite dishes – gooseberry and elderflower icecream, gooseberry sauce cake and gooseberry fool.
Other fruits did not fare so well. The heavy rainfall , though a boon for plant growth, also brought with it another pest – hordes of  slugs.  These lethal interlopers  which appeared out of nowhere, were unhindered by the fruit cage and within weeks had destroyed around half of the prized strawberry crop.  Another batch simply rotted away on the sodden earth.  A hasty application of straw and jam jars around the few remaining berries salvaged a couple of pounds .  Delicous; but barely enough to fill a few bowlfulls topped with cream.  Let alone make jam.
A few weeks later the raspberries started to ripen.  Last year the one year canes produced only a few flowers.  By contrast, this year the flowers and forming fruit were abundant.  Being higher off the ground, they were safe from slugs.  Instead the netted cage was the target of blackbird attack.  These ingenious and greedy creatures found the smallest weaknesses within the netting to break into the cage and make off with the booty.
Daily, we watched perplexed as, each hole being mended, the blackbirds would miraculously re-appear inside the netting, quite undeterred by our presence  as we scowled and stamped in rage outside the cage.
In a last desperate measure we covered each of the bushes with fleece and pegged it securely.   The result – success!  The fleece acted like a greenhouse, not just protecting the berries from bird attack but ripening them quickly.
So after a long battle (and really it did feel like that!) we have finally been able to enjoy the fruits of our labour.  Pounds and pounds of sumptuous raspberries to adorn breakfast muesli, as an accompaniment to almond shortbread and in a velvety clafoutis.
And the winning streak seems set to continue with both blackcurrants and redcurrants ripening well and the prospect of that most heavenly of summer dishes – summer pudding.